The Xiaomi Mi Home Security Camera 360 1080P is one of Xiaomi's most popular security cameras among their plethora of gadgets. Xiaomi offers a high-value product for a fraction of the cost of other recognized brands, with a starting price of $49.99. What you get is a bird's-eye view with 1080P Full HD surveillance, motion detection, and, last but not least, sharp infrared night vision.
Using the smartphone app, a user may pan and tilt the camera to record everything in view or move it for the optimal viewpoint. You can enable motion detection notifications for foolproof surveillance on the cheap.
Xiaomi Mi Home Security Camera 360 Specification
Product Name: Mi Home Security Camera 360° 1080P
Product dimensions: 78 x 78 x 118mm
Net weight: 239g
Power input: 5V/2A
Lens angle: 110°
Resolution: 1080P
Focal length: 3.9mm
Working temperature: -10℃ ~ 50℃
Wireless connectivity: Wi-Fi IEEE 802.11 b/g/n 2.4 GHz
Expandable Memory: MicroSD card (up to 64GB)
Compatible with: Android 4.4, IOS 9.0 or later
Xiaomi Mi Home Design and Performance
The Mi Home Security Camera 360 1080P is designed to look like an egg in an egg holder. A black camera eye and a black eyeball are housed in a white shell that is fixed on a dock that rotates 360 degrees horizontally. The camera eye, on the other hand, rotates 96 degrees in a vertical tilt, revealing the secret Micro SD card slot.
The holes for the loudspeakers are pockmarked on the rear of the camera head. The sound is pretty good. The microphone, as well as the indicator light, are located in the front, close to the lens.
At the bottom, you'll find the reset button and a Micro USB charging port. The base is made up of four rubber feet in case you want to stand the camera up. The texture provides a secure hold on any flat surface.
Xiaomi thought of everything, including a base unit and two screws for wall installation. A sliding mechanism enables the camera to be installed and removed in a single fluid motion. The twin motorhead is whisper-quiet and enables stealthy spinning. Swiping the live stream in the Xiaomi Home app rotates it. Xiaomi deserves credit for keeping a smooth, virtually quiet rotation.
Xiaomi Mi Home Security Camera 360 1080P Features
The Xiaomi Mi Home Security Camera 360 1080P stands up to its lengthy moniker. The video footage is clear both during the day and at night. You may increase image quality even more by enabling lens distortion correction and Wide Dynamic Range mode (WDR) in the settings. WDR improves the sharpness of your image's underexposed and overexposed areas for a better result, however, it does not operate in Night Vision mode.
Xiaomi has improved video encoding technology, resulting in less bandwidth and a smaller storage footprint without sacrificing quality. We put this to the test by recording a 10-minute film at 1080P onto phone storage, which took up just 69.64MB.
The Mi Home Security Camera 360 1080P also works with Alexa and Google Assistant and has a slew of other capabilities, some of which we'll go over shortly.
Xiaomi Home app/ Xiaomi Mi Home app
Any device's companion app has the power to improve or degrade a user's experience. In this regard, the Xiaomi Home app (or Mi Home app on Xiaomi devices) does an excellent job of making the Mi Home Security Camera 360 1080P an appealing investment.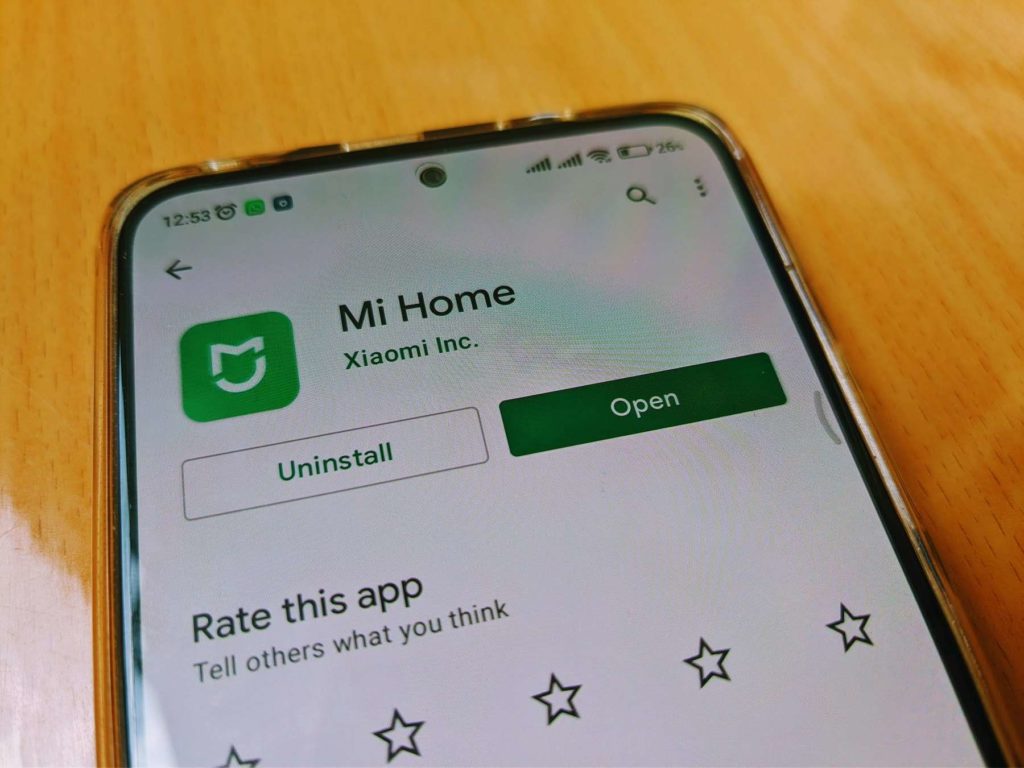 The Xiaomi Home software, often known as the Xiaomi Mi Home, takes pleasure in its simplicity. It's a simple app that gets right to work. When you launch the app, it displays your camera. Your live broadcast is activated with a simple tap. Swiping on the live stream allows you to pan and tilt the camera, as well as see 10-second home surveillance movies and replay if you already have an SD card attached.
On the upper left of the camera, there is a timestamp. A simple tap on the stream brings up choices to switch off the camera, control sound, modify video quality, and activate the full-screen mode. The Xiaomi Home app has conspicuous buttons for two-way audio, capturing photos, recording videos, and using the D-Pad.
Other customizations may be found in the settings. Tapping on the hamburger menu in the upper right corner brings up important camera options (including the timestamp).
Correction of lens distortion, Wide Dynamic Range mode, and night vision settings). Settings for home surveillance, motion detection, and alarm interval
Pros and Cons Of Xiaomi Mi Home
The Xiaomi Mi Home Security Camera 360 1080P has a lot to offer. Personally, it's the fact that I don't have to constantly squander money on cloud storage membership costs. After all, I'm not made of cash. According to the Mi website, the camera includes an SD card slot that supports up to 32GB. However, the Mi Home app allows you to save snippets and even longer recordings on your smartphone.
Aside from that, the camera can pan 360 degrees and tilt 96 degrees in order to cover all bases. In addition, Xiaomi has Infrared night vision, motion detection, and a talkback feature. And the video quality is far superior to what you'd anticipate. It's a plus that you get a base and screws for mounting the camera as a permanent fixture.
However, the Xiaomi Mi Home Security Camera 360 1080P, like many other home security cameras, has an Achilles' heel: it is battery-powered. This isn't a major problem in areas where there aren't power outages, but where I live, that's when the burglars start roaming and testing defenses. It's a good idea to link the camera and WiFi to an uninterruptible power supply.
Second, the camera's mounting options are limited by the camera's 2 meters Micro USB cord. This may be fixed by obtaining a separate male-to-female USB extension cable.
Don't forget to tell us your opinion, by dropping your comment below, Thanks
Stay up to date with all the news and updates from your favorite blog on Google News. And of course, you can find us in the rest of RSS:  Facebook, Pinterest, Flipboard, or Twitter. You can subscribe to our Youtube Channel. Are you a fan of photography? Check Out Our Web Stories.